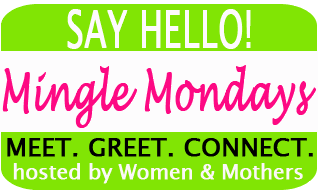 Love networking with other women and moms like you? Then you have found the perfect group and the perfect meeting place here at "Mingle Mondays".
Our Purpose: To invite others to meet and explore other blogs whom they might have never came across as well as encourage interaction & support through leaving encouraging comments.
Every Monday morning (12a mountain time) a list , aka Mr. Linky, will be posted here with links to lots of great blogs for you to read and the fabulous women behind them that would love to meet you. It's a virtual networking event!
Click here for more information on getting involveed.